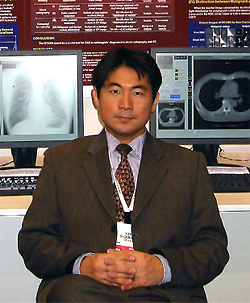 Professor
Kenji Suzuki, M.S., Ph.D.
Professor of BioMedical Artificial Intelligence
Director, BioMedical Artificial Intelligence Research Unit (BMAI), Institute of Innovative Research (IIR)
Vice Chair, Department of Information and Communications Engineering, School of Engineering
Tokyo Institute of Technology
with joint appointments in
Education
2001 Ph.D. in Engineering (by Published Work), Nagoya University, Nagoya, Japan
Professional Experience (Full-time Position)
2006 Assistant Professor, Section of Imaging Sciences, Department of Radiology, Division of the Biological Sciences, The University of Chicago

2007 Assistant Professor, Committee on Medical Physics, Division of the Biological Sciences, The University of Chicago

2014 Associate Professor (Tenured), Department of Electrical and Computer Engineering, Armour College of Engineering, Illinois Institute of Technology

2017 Professor (Specially Appointed), World Research Hub Initiative (WRHI), Institute of Innovative Research (IIR), Tokyo Institute of Technology

2020 Professor (Specially Appointed), Tokyo Tech Academy for Super Smart Society, Tokyo Tech

2021 Professor & Director, Biomedical Artificial Intelligence Unit (BMAI), Institute of Innovative Research (IIR), Tokyo Institute of Technology
Research Interests
The long-term goal of Dr. Suzuki's research is to develop and understand computational intelligence that learns, from data and examples, experts' knowledge and skills in understanding images in order to make smart decisions. To approach his goal, he believes that the development of sophisticated machine-learning and image-analysis techniques, their theoretical backups, and an understanding of experts' decision-making process and of the human visual system are essential. Areas of his interest include machine/data learning in biomedical imaging, computer-aided detection and diagnosis of lesions in biomedical images, and biomedical image processing and analysis, especially machine learning inspired by the human visual system for image processing and pattern recognition such as image-based machine learning and deep learning, and its applications in biomedicine.
Publications (see the Publications page for details)
Kenji Suzuki, Ph.D. has published 350 papers (including more than 110 peer-reviewed journal papers). He has been actively studying deep learning in medical imaging and computer-aided diagnosis in the past 25 years. His papers were cited more than 13,000 times, and his h-index is 56. He is one of the highly cited researchers in the computer-aided diagnosis field by Google Scholar. He is inventor on 37 patents (including ones of earliest deep-learning patents), which were licensed to several companies and commercialized. He published 14 books and 25 book chapters, and edited 16 journal special issues. He was awarded a number of grants as PI including NIH R01, JST, and NEDO . He served as the Editor of a number of leading international journals, including Pattern Recognition (IF: 8.5) and Medical Physics (IF: 4.5). He served as a referee for125 international journals such as Science Translational Medicine (IF: 19.4) and Nature Communications (IF: 17.7), an organizer of 114 international conferences, and a program committee member of 122 international conferences. He gave 140 invited talks and keynote speeches at international conferences. He received 26 awards, including 3 Certificate of Merit Awards from RSNA, IEEE Outstanding Member Award, Kurt Rossmann Award for Excellence in Teaching from University of Chicago, IEICE Best Journal Paper Award, Most Cited Journal Paper Award 2016 from EANM and Springer-Nature, the 2017 Albert Nelson Marquis Lifetime Achievement Award from Marquis Who's Who, The Most Citation Award 2019 from Japan Society of Medical Physics (JSMP) and Japanese Society of Radiological Technology (JSRT), and 2021 Award for Science and Technology (Research Category) at the Commendation for Science & Technology by the Ministry of Education, Culture, Sports, Science and Technology (MEXT) of Japan.
Selected Journal Papers
Suzuki K.., Horiba I., and Sugie N.: A simple neural network pruning algorithm with application to filter synthesis. Neural Processing Letters 13: 43-53, 2001.

Suzuki K.., Horiba I., and Sugie N.: Efficient approximation of neural filters for removing quantum noise from images. IEEE Transactions on Signal Processing 50: 1787-1799, 2002.

Suzuki K., Horiba I., Sugie N., and Nanki M.: Neural filter with selection of input features and its application to image quality improvement of medical image sequences. IEICE Transactions on Information and Systems E85-D: 1710-1718, 2002.
Editor-in-Chief/Associate Editor of Journals
Guest Editor for Special Issues of Journals
2022 Special issue on "Editorial Board Members' Collection Series in "Computer-Aided Diagnosis and Prognosis of Diseases,"" Diagnostics

2022 Special issue on "Intelligent Systems for One Digital Health," International Journal of Environmental Research and Public Health (Impact Factor: 4.614)

2022 Special Issue on "Feature Papers for AI," AI

2020 Special Issue on "Frontiers in Artificial Intelligence," AI

2018 Special Issue on "Computer-Aided Diagnosis and Characterization of Diseases," Diagnostics

2017 Special issue on "Machine Learning in Medical Imaging," Pattern Recognition (IF: 8.518)

2016 Special issue on "Machine Learning Applications in Medical Image Analysis," Computational and Mathematical Methods in Medicine (IF: 2.809)

2016 Special issue on "Advances in Translational Cancer Imaging: Opportunities and Challenges," BioMed Research International (IF: 3.246)

2016 Special issue on "Image and Video Processing in Medicine," Journal of Imaging

2015 Special issue on "Machine Learning in Medical Imaging," Computerized Medical Imaging and Graphics (IF: 7.422)

2013 Special issue on "Advanced Computing for Image-Guided Intervention," Neurocomputing (IF: 5.779)

2013 Special issue on "Machine Learning in Medical Imaging," Machine Vision and Applications (IF: 2.983)

2012 Special issue on "Lung Imaging Data Analysis," International Journal of Biomedical Imaging

2012 Special issue on "Machine Learning for Medical Imaging 2012," Algorithms

2011 Special issue on "Machine Learning in Medical Imaging," International Journal of Biomedical Imaging

2010 Special issue on "Artificial Intelligence in Biomedical Image Analysis," Open Artificial Intelligence Journal

2010 Special issue on "Machine Learning for Medical Imaging," Algorithms
Organizer/Chair of International Conferences
2022 Steering Committee Member, 12th International Conference on Ambient Computing, Applications, Services and Technologies (AMBIENT 2022), Barcelona, Spain, November 13-17, 2022
2022 Steering Committee Member, 2022 Asia Conference on Advanced Robotics, Automation, and Control Engineering (ARACE), Qingdao, China, August 26-28, 2022
2022 Chair, 2022 5th International Joint Conference on Robotics and Artificial Intelligence (JCRAI 2022), Chengdu, China, June 10-12, 2022
2021 Conference Committee Member, Robotics and Computer Science World Forum, Amsterdam, Netherlands, October 04-06, 2021
2021 Steering Committee Member, 11th International Conference on Ambient Computing, Applications, Services and Technologies (AMBIENT 2021), Barcelona, Spain, October 3-7, 2021
2021 Organizing Committee Member, International Webinar on Artificial Intelligence and Robotics (Robotics 2021), August 30-31, 2021
2021 Chair, 2021 4th International Joint Conference on Robotics and Artificial Intelligence (JCRAI 2021), Chengdu, China, June 21-23, 2021
2021 Steering Committee Member, 2021 8th International Conference on Electronics Engineering and Technology (ICEET 2021), Tokyo, Japan, July 16-18, 2021
2021 Steering Committee Member, 2021 6th Asia-Pacific Conference on Intelligent Robot Systems (ACIRS 2021), Tokyo, Japan, July 16-18, 2021
2021 Organizing Committee Member, International Conference on Dementia and Alzheimer's, Paris, France, June 09-11, 2021
2021 Scientific Committee Member, International Precision Medicine Conference (IPMC 2021), April 19-21, 2021 (virtual)
Editor of International Conferences; Leadership Role in Organizations
2021-2024 Council Member, The Hong Kong Society of Robotics and Automation (HKSRA)
2023 Program Committee Chair, 2023 12th International Conference on Computing and Pattern Recognition (ICCPR 2023), Qingdao, China, October 27-29, 2023
2023 Associate Editor, Theme 2, Biomedical Imaging & Image Processing, the 45th Annual International Conference of the IEEE Engineering in Medicine and Biology Society (IEEE EMBC), Sydney, Australia, July 24-28, 2022
2023 International Advisory Committee, 2023 6th International Joint Conference on Robotics and Artificial Intelligence (JCRAI 2023), Shanghai, China, July 7-9, 2023
2023 Associate Editor, IEEE International Symposium on Biomedical Imaging (IEEE ISBI), Cartagena de Indias, Colombia, April 18-21, 2023
2023 Advisory Committee Member, the 2023 7th International Conference on Artificial Intelligence, Automation and Control Technologies (AIACT 2023), Kunming, China, February 24-26, 2023
2022 Technical Program Chair, 2022 5th Artificial Intelligence and Cloud Computing Conference (AICCC 2022), Osaka, Japan, December 17-19, 2022
2022 Co-Chair, Program Committee, 2022 11th International Conference on Computing and Pattern Recognition (ICCPR 2022), Beijing, China, October 21-23, 2022
2022 Associate Editor, Theme 2, Biomedical Imaging & Image Processing, the 44th Annual International Conference of the IEEE Engineering in Medicine and Biology Society (IEEE EMBC), Glasgow, UK, July 11-15, 2022
2022 Program Chair, 2022 7th Asia-Pacific Conference on Intelligent Robot Systems (ACIRS 2022), Tianjin, China, July 1-3, 2022
2022 Advisory Committee Member, 2022 6th International Conference on Artificial Intelligence, Automation and Control Technologies (AIACT 2022), Shanghai, China, April 22-24, 2022
2021 Academic Committee member, International Coalition of Intelligent Manufacturing (ICIM), December, 2021
2021 International Advisory Committee Member, International Conference on Issues and Challenges in Intelligent Computing Techniques (ICICT-2021), November 26-27, 2021
2021 Associate Editor, Theme 2, Biomedical Imaging & Image Processing, the 43rd Annual International Conference of the IEEE Engineering in Medicine and Biology Society (IEEE EMBC), Guadalajara, Mexico, October, 2021
2021 Co-Chair, Program Committee, 2021 10th International Conference on Computing and Pattern Recognition (ICCPR 2021), Shanghai, China, October 15-17, 2021
2021 Associate Editor, 2021 IEEE International Conference on Systems, Man, and Cybernetics (IEEE SMC 2021), Melbourne, Australia, October, 2021
2021 Program Chair, The 5th International Conference on Imaging, Vision & Pattern Recognition (IVPR), Japan, August 16-20, 2021
2021 Associate Editor, IEEE International Symposium on Biomedical Imaging (IEEE ISBI), Nice, France, April, 2021
Grant Reviewer
Diabetes UK, United Kingdom
Linz Institute of Technology (LIT), Austria