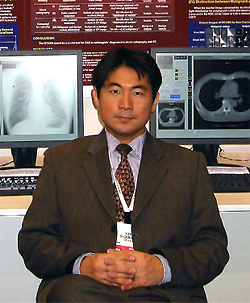 Principal Investigator
Kenji Suzuki, M.S., Ph.D.
Associate Professor
Department of Electrical and Computer Engineering & Medical Imaging Research Center
Illinois Institute of Technology
Education
B.S. in Engineering (Magna Cum Laude), Meijo Univerisy, Nagoya, Japan

M.S. in Engineering (Summa Cum Laude), Meijo Univerisy, Nagoya, Japan

Ph.D. in Engineering (by Published Work), Nagoya University, Nagoya, Japan
Professional Experience (Full-time Position)
Research Interests
The long-term goal of Dr. Suzuki's research is to develop and understand computational intelligence that learns, from data and examples, experts' knowledge and skills in understanding images in order to make smart decisions. To approach his goal, he believes that the development of sophisticated machine-learning and image-analysis techniques, their theoretical backups, and an understanding of experts' decision-making process and of the human visual system are essential. Areas of his interest include machine/data learning in biomedical imaging, computer-aided detection and diagnosis of lesions in biomedical images, and biomedical image processing and analysis, especially machine learning inspired by the human visual system for image processing and pattern recognition such as image-based machine learning and deep learning, and its applications in biomedicine.
Publications (see the Publications page for details)
Dr. Suzuki has published more than 320 scientific papers (including 110 peer-reviewed journal papers) in the fields of computer-aided diagnosis, medical image analysis, machine learning, neural networks, computer vision, image processing, and pattern recognition. He is inventor/co-inventor on approximately 30 patents (including 13 granted patents). His papers were cited more than 11,000 times by other researchers, and he has an h-index of 45 by Google Scholar. He is one of highly cited researchers in the computer-aided diagnosis field by Google Scholar.
Recent Journal Publications
Suzuki K.., Horiba I., and Sugie N.: A simple neural network pruning algorithm with application to filter synthesis. Neural Processing Letters 13: 43-53, 2001.

Suzuki K.., Horiba I., and Sugie N.: Efficient approximation of neural filters for removing quantum noise from images. IEEE Transactions on Signal Processing 50: 1787-1799, 2002.

Suzuki K., Horiba I., Sugie N., and Nanki M.: Neural filter with selection of input features and its application to image quality improvement of medical image sequences. IEICE Transactions on Information and Systems E85-D: 1710-1718, 2002.